What is Public Interst Capitalism?
Who owns companies? According to the Company Act, shareholders own company. Some people say, therefore, shareholder value maximization is the right way to run company. However, a question of "What is a primary reason for companies to exist?" is more controversial and open to debate.
Given importance of company's roles in today's economy, the second question is more important. In addition to shareholders, a company has many stakeholders such as customers, employees, executives, and business partners. Even the society as a whole is a stakeholder. Thereby, the purpose of a company should be to serve the interest of those stakeholders through products, services, employment, tax, dividends etc… as an entity. Those business activities make people and society rich and fulfilling.
Furthermore, a company and stakeholders build a community where capabilities, technologies, skills, knowhow, and trust are accumulated. These accumulated assets assure company's future prosperity and sustainability.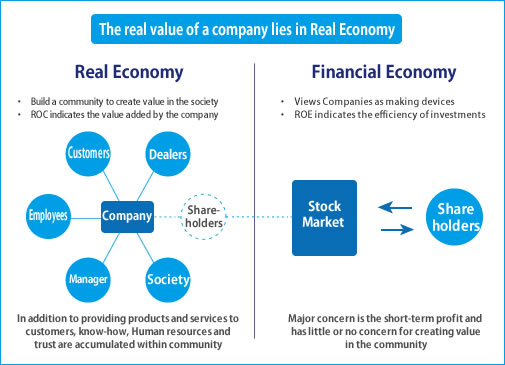 Since the early 20th century, the community structure has shifted significantly by separation of company ownership and management. To be sure, the shift has been great help for capitalism to grow faster with bigger capital and thus has led us to present prosperity.
As a result, however, shareholders came to interact with the community through financial markets, common interest diminished and the relationship with the community was weakened. This means stockholders became less interested in assets accumulated in the community and more interested in return to their investment. Hedge funds and activists have accelerated this movement. They see company as a device to produce profit to their investment. The ideology of "shareholder value maximization" became the zeitgeist in a business world, where the success of a company was measured by ROE which solely indicates the efficiency of shareholders investment.
Consequently, it is often observed that company's executives make a decision to meet stockholders' expectation though it may impact company's sustainability.
Alliance Forum Foundation has been seeking for an indicator in place of ROE. We call it the RTC (Return to Company); a measurement of the value company has created with stakeholdrs. We are currently undertaking in-depth research on various components of the RTC, in cooperation with major corporate executives and professors in Japan.
In recent years, Wall Street driven shareholder oriented management is getting embraced even in Japan for the nobler purpose of globalization. But, before we talk about Japan, let's review what are happening in US based on various economic data.
What is a problem?
What is happening in the US
Since 1980s, the US has been pursuing small government and globalization with economic deregulation such as free trade, privatization, and increase of international labor mobility. The idea is to entrust "market" to redistribute money, facility and labor. Because they have believed that is the best way for fast economic growth.
In reality, however, that theory has not been working as intended. The GDP growth rate has been in decline since 1979. On the other hand stock price has been soaring except dot-com bubble crash and Lehman shock period. In other words, notwithstanding the stagnant economic output and wages, the wealth as indicated by stock prices, has continued to grow at a remarkable pace.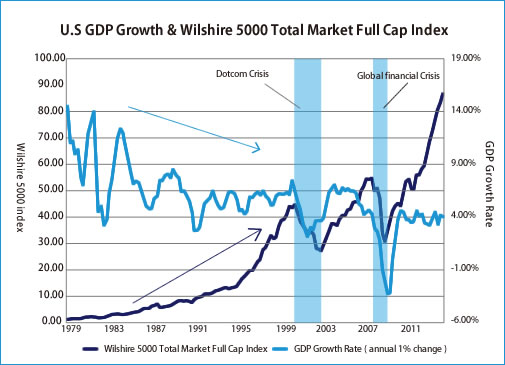 (Graph 1) Source: FRED (Federal Reserve Economic Data), BEA (US Bureau of Economic Analysis)
In terms of distribution of wealth, the accumulation of capital despite the sluggish economy has brought about inequality in the U.S. It is remarkable that the income of the top 1% has grown rapidly since 1980s, while that of the bottom 90% grew only 15% .Moreover, the correlation between the income of the top1% and the stock price is evident in this graph (graph 2 ). This is because CEOs and senior executives make up the top1%, whose compensation fluctuates in tandem with company's stock price.
In this system, CEOs are inclined to prioritize near term operation which would raise stock prices during their term than long term strategy and investment. The primary role of CEO is to lead and manage company and stakeholders for sustainable future prosperity. In reality, however, CEOs compensation forces them to view a company as a profit generating device.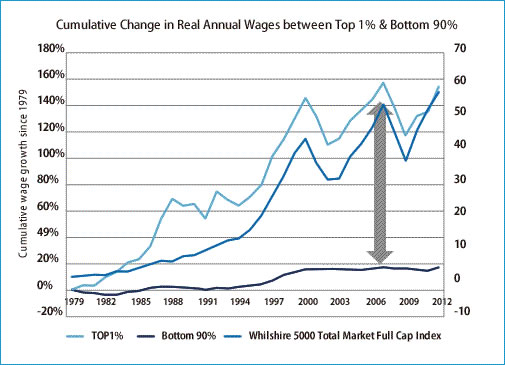 (Graph 2) Source: Economic Policy Institute, Social Security Administration wage statistics, FRED (Federal Reserve Economic Data)
The fact that CEOs seek for short-term profits diminishes the long-term prosperity and sustainability of the company and its community. Graph 3 shows the amount of return to shareholders and a percentage of investment in total cash use. While dividends and buybacks are increasing, investments for growth has been in decline. As a result, the average lifespan of American corporation has been shortened.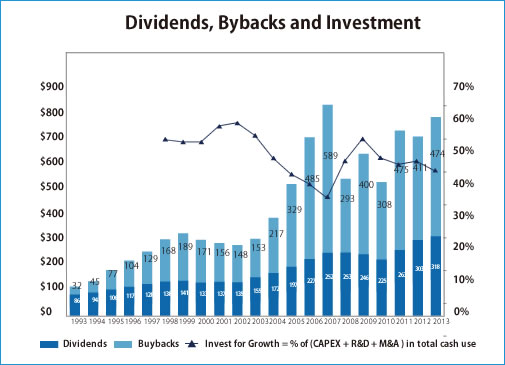 (Graph 3) Source: Bloomberg, .Factset Compustat and Goldman Sachs Global Investment Research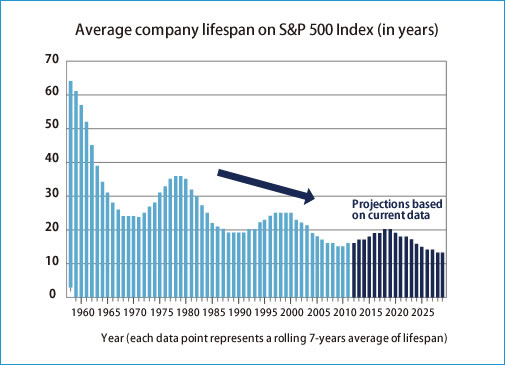 (Graph 4) Source: Creative Destruction Whips through Corporate America INNOSIGHT
What kind of model is needed in Japan?
So far, Japan has not fully embraced the ideology of market fundamentalism. Yet, on the pretext of globalization, institution and regulation are shifting towards the American model. Although the income inequality in Japan is not as extreme as that in the U.S, the gap has been widening compared to other OECD countries.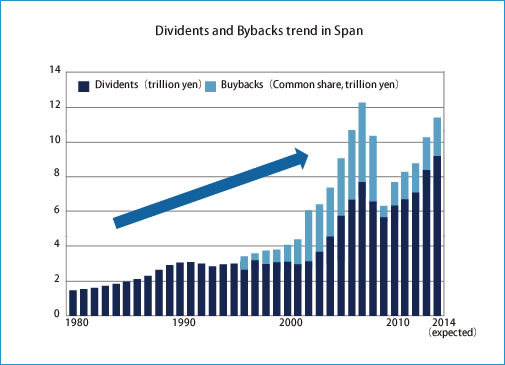 (Graph 5) Source: The World Top Incomes Database
In the past, Japanese style of management was deemed a good model by various countries. However, it is undeniable that the traditional way of management will not function in today's society due to dynamic changes. So, what kind of model do we need in Japan?
There is no definite answer to this question yet. Therefore, Alliance Forum Foundation would like to research and discuss with you.
Our Activities
■ PIC(Public Interest Capitalism) seminar
This is a 6 months long seminar to cultivate human resource capable of future corporate leaders. Students will learn concept and actual practice of Public Interest Capitalism through reflective dialog with active corporate leaders.
This 3days forum pursues ideal market-oriented economy through research of current issues and discussion of possible measures and policies. 50 plus corporate leaders,
scholars, and politician come together for intensive discussion.
WAF is the largest AFF hosted forum. Every year, we present AFF policies and activities along with theme of the year to 300~400 audiences to get better understanding and support to AFF.
Publications
Publications on public interest capitalism:
The Alliance Forum Foundation promotes public interest capitalism through various avenues, including the course on public interest capitalism at Tokyo University Graduate School and events with executives and policymakers. We advocate the society with a mid- to long-term vision where socially beneficial technologies thrive.
http://www.e.u-tokyo.ac.jp/kifu/alliance.html
| | |
| --- | --- |
| 21世紀の国富論(平凡社) | 新しい資本主義 (PHP新書) |
NHK Special "Money Capitalism and How not to Repeat the Crisis" (Japanese Only)
代表理事の原丈人が出演  (2009年7月20日 )
http://www.nhk.or.jp/special/detail/2009/0720/index.html
100年に一度とも言われる金融危機が世界を席巻した——。震源地のアメリカはもちろん、EUや日本、新興国、ロシアや中東といった産油国……世界のいたるところで、実体経済の疲弊しています。なぜ誰も止められなかったのか—。この事態を招いた原因について、金融工学が生まれた経緯から、金融危機が起こるまでになった話などをわかりやすく取り上げています。最終回では、金融危機をどのようにして止めていくのか、様々な識者による提言が行われています。
BS Fuji Prime News "Proposal: Japan Saves the World from Financial Crisis" (Japanese Only)
代表理事 原丈人、神永氏(カウンシルメンバー) 出演(2012年11月9日 )
http://www.bsfuji.tv/primenews/text/txt121109.html
報道番組にて、金融危機の起こる原因、その対処法などを解説しました。
映像については(前半/後半:40分程度)下記のURLでご覧いただけます(2012.12.20現在) http://www.bsfuji.tv/primenews/movie/index.html?d121109_0 (前半)
http://www.bsfuji.tv/primenews/movie/index.html?d121109_1 (後半)