Projects
Alliance Forum Partnership (AFP) is supporting Japanese companies' expansion into growing country markets in order to contribute Japan's innovative technologies and services to solve social issues. A private sector-led project will contribute to economic developments of growing countries, at the same time show a Japan-brand aid that is creative and productive to the world. By repeating such efforts, we aim to make Japan an irreplaceable partner for growing countries.
AFP provides unique and practical advices and business supports based on local networks and past achievements to such partner companies. By assisting Japanese companies' venture, AFP aims to provide positive impacts to growing countries.

[ Advantage ]
AFP has established local offices in focal countries, and thus knows key personnel as well as understands local market and consumer behavior.
We do not provide just advices. Rather, experienced staffs of AFP provides advices and supports from the point of a business partner.
Services
When a company expands its business into a new market in overseas, problems and challenges come in a set. Especially, at the preparation stage, a company has to clarify many points, such as understanding market and business customs, networking with local partners, and becoming familiar with regulations. Often the times, a company gets lost.
As a result, although it has an interest in entering into a new market, it hesitates even before the start, and end up not taking actions.
AFP has rich experiences in supporting private companies taking the first step and move on to the next phase steadily in emerging markets, especially in Bangladesh and Zambia. Experienced AFP staffs will tackle issues one by one together with partner companies throughout the different stages of business development.
[1] Market Research
AFP staffs visit the selected country, and collect firsthand information the partner is in need through various local networks AFP possesses.
[2] Business Model Development
AFP staffs provide advices on the business model and market expansion strategy based on past experiences.
[3] Business Matching, Partner Selection, DD Report Submission
AFP will find and recommend the best local partner according to business model and type. AFP will also collect information necessary for due diligence.
[4] Negotiation and Business Commencement
AFP will bridge between the client and the local partner, and fill in the legal and custom gap for a smooth business negotiation.
[5] Business Contract, Business Partner
AFP does not only remain as an advisor. It is also ready to launch and continue each project as a business partner.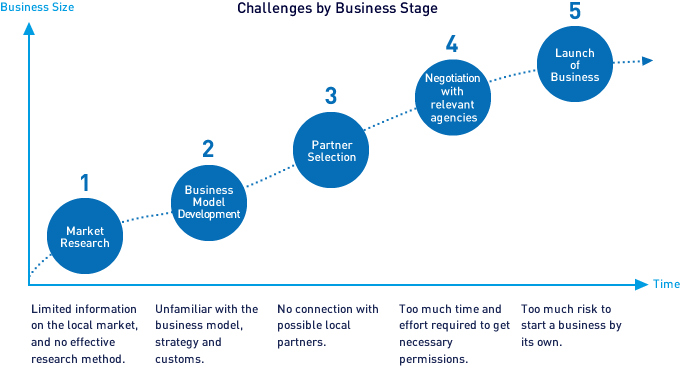 Area of Business with Advantages
Consumer products (especially businesses in water, food, medical service, education, and housing which requires a close contact to consumers)
Target Countries
South Asia, Mekong Basin, Eastern/Southern Africa
Achivements
Mitsubishi Chemical Holdings Corporation (MCHC) Thin Film Solar Panel
This project plans to implement a light-weight solar panel developed by Mitsubishi Chemical Corporation (MCC) to Bangladesh where Solar Home System (SHS) is prevalent than any other country in the world. By promoting and implementing MCC's highly trusted and scalable solar technology to Bangladesh, AFP aims to contribute to mitigate the country's poverty as well.
The KAITEKI Institute, Inc., a group company of MCHC, is the partner of this project. The KAITEKI Institute conducts research on social trend, and market MCC's product to create a more comfortable ("KAITEKI") society. With the KAITEKI Institute's cooperation, AFP is conducting market research, business model development, partner selection, and negotiation with relevant agencies.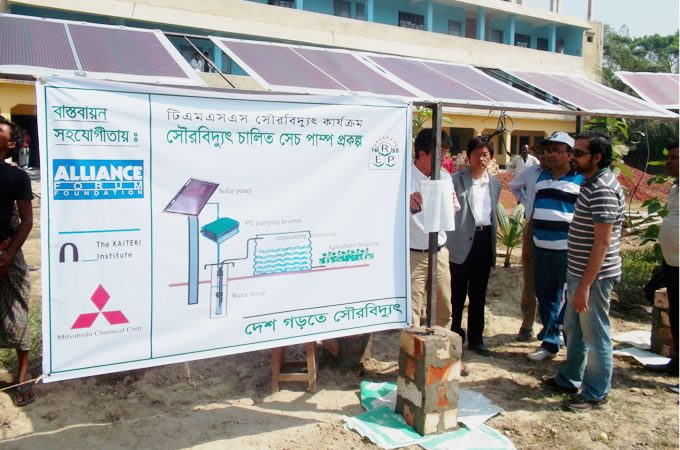 Nissin Foods Holdings Nutritious Food
This project aims to improve nutrition status of Bangladeshi people by developing a new nutritious food utilizing Nissin Foods Holdings Co., Ltd.'s leading food processing technology. AFP collects information on nutritional challenges in Bangladesh and conducts the test marketing of the developed product by adopting its experience in Spirulina project in Zambia (a project to fight against malnutrition in Africa). The main target population of this project are maternal and lactating mothers, and under 5 children.
Information
UNDER CONSTRUCTION
Contact
For inquiries, please contact us from here.